5 Tips When Booking an Airport Transfer from Edinburgh to St Andrews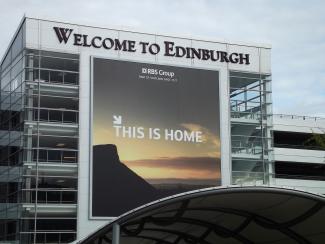 First time booking an airport transfer from Edinburgh to St Andrews?
Airport transfers are a convenient, and often cost-effective option that's especially popular with students - and anyone else who wants to travel without the stress of making their own way to the bonny wee town of St Andrews after touching down in Edinburgh.
If you're thinking about booking a shuttle or shared transfer service to St Andrews from Edinburgh Airport, we've provided some key tips to ensure your journey is a good 'un! 
After all, we've been providing seamless airport transfers for over 12 years now, and we're aware of all the things that can go wrong!
1. Look for shuttle/shared transfer options
Shuttle services and shared transfers are two different options, but both can be a good way of taking care of your transport needs at a low cost. 
What's the difference? Glad you asked. 
Shuttles
Shuttles usually leave the airport at a fixed time. Most good shuttle services from Edinburgh to St Andrews will publish an online timetable that you'll be able to check, so you can book the time that best matches up with your flight. 
Shared transfers
A shared transfer is where you're able to request to share transport with others travelling to St Andrews on the same day, in order to help reduce the cost. Usually you'll be able to register your interest with your chosen company, and they'll match up other suitable parties. 
This usually means you may have to wait a while before getting confirmation that you'll definitely be matched with someone and able to book a shared transfer - and you may end up deciding to either book a private taxi, or make other travel arrangements in the meantime. 
2. Double check your pickup point 
Always know exactly where you're going to be picked up from Edinburgh Airport - and, if applicable, at St Andrews for the journey back.
Any good St Andrews shuttle company will clearly state the meeting point in your confirmation email upon booking your shuttle, shared transfer, or private taxi. 
3. Ensure you'll be able to contact the driver 
This is so important. If your flight is late, or expected to be late, or there's any other problems at all, you should be able to contact the driver of your shuttle directly so you can inform them. Most good companies will allow you to be in touch with the driver through text message or WhatsApp. 
If your flight is late or delayed, they should do their best to arrange travel on the next available shuttle run, rather than just leaving you to fend for yourself (but check this will be the case!).
4. Provide your flight details, just in case
It's always a good idea to provide your flight details (flight number and flight departure/arrival time) to your chosen St Andrews shuttle company - in fact, you should really expect them to ask you for this upon booking. 
This is to ensure they can be there to meet you when you arrive from your flight - and also so they can track your flight in the case of delays, cancellations or other issues. Likewise, it's also important that they have the details of your return flight (if applicable), so you don't miss it! 
TIP: We always track your flights so that we stay fully informed of your arrival time and so we can do our best to meet you when you land. 
5. Ensure there'll be enough room for your luggage
In most instances, your chosen St Andrews shuttle service will ask you to confirm how much luggage you'll be bringing, so they can accommodate you when you arrive. If you arrive with extra baggage, they'll usually still accept you, but may have to charge extra per bag. 
TIP: It's quite common for shuttle services to charge extra for non-standard pieces of luggage (golf bags, skiis, surfboard, snowboard etc.) so if you're planning on bringing these, always inform your chosen company ahead of time so they can accommodate everyone's luggage!
Advice from St Andrews Shuttle 
The best advice we can give you is to perform due diligence when booking a St Andrews shuttle or airport transfer service. Look at the prices each company is offering, and what's included for those prices - are there budget-friendly options for students etc.? 
If you're unsure of anything at all - just ask. Any reputable St Andrews airport transfer service will be happy to answer your questions and ensure you're feeling at ease about your booking. Good communication is absolutely essential, so always trust your gut.
And, last but not least, ensure you book in plenty of time to secure your seat. If you leave it too late, there may be less options available (or, you might only have the option of booking a private taxi - or circumnavigating public transport by yourself!).
Pssst! Looking for tips on what to do once you get to St Andrews? Check out the official VisitScotland website for some ideas.
In summary 
So, there we have it! Travelling to St Andrews doesn't need to be stressful, but we do recommend the above tips when booking an airport transfer or shuttle service from Edinburgh Airport. 
Need to book a St Andrews shuttle today - or have any questions about doing so? Just give us a call, or fill out our online contact form - we'll be more than happy to help.
Finally, enjoy your trip to St Andrews!