From £30 One Way
St Andrews* to Edinburgh Airport
Edinburgh Airport to St Andrews*
Everyone welcome - not just students!

Easy online booking process

Door-to-door convenience (where possible)

All UK destinations considered

Flexible pickup times - just ask!

Direct contact with drivers via Whatsapp, text and calls

We'll monitor your flights in case of delays

Providing airport transfers since 2008
*additional costs for areas outside St Andrews town, and additional luggage
Shared Shuttles - From £30 per person
Click Here to see the Timetable for our shared Shuttles.
The shared Shuttle runs in line with the University timetable, and does not run all year round.
We do offer Private transfers all year round, so please use the "Get a Quote and Book" section of this page to get a quote, and book your transfer (it takes about 2 mins)
Please note that we have implemented an "Out of Hours Tariff". This covers transfer between 10pm and 6am. 
That extra charge will already be included in the quoted fare if your pick up falls in to these hours.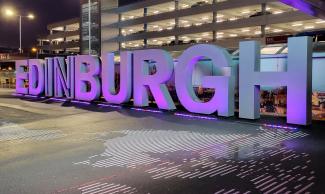 Kick off your university term or vacation in St Andrews the right way, by relaxing on the ride from Edinburgh Airport with our smooth St Andrews airport transfer service. Book a seat on a St Andrews shuttle from Edinburgh, and you won't have to worry about crowded coaches with limited luggage space, changing buses at Leuchars or making sure all your bags are accounted for whilst riding public transport.
Instead, slide into a comfortable seat and stay nice and warm for the duration of your trip. It takes approximately 1 hour and 20 minutes in a shuttle from Edinburgh Airport to St Andrews. Doesn't sound long, but it could feel like an eternity if you have to spend it in a cramped public vehicle! 
We've been transferring tourists, university students and locals between St Andrews and Edinburgh Airport for over 12 years. From booking your trip to arriving at St Andrews, we make sure you have a hassle-free experience. Which is why we're known as St Andrews' favourite Airport Transfer Service!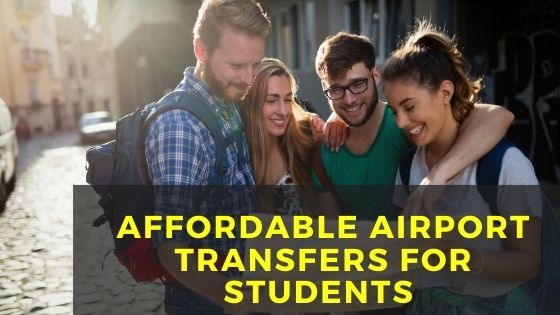 Looking for an easy way to travel to and from St Andrews University? St Andrews Shuttle is your answer. 
Our St Andrews shuttle service takes the stress out of travelling between Edinburgh Airport and St Andrews. Whether you're visiting St Andrews for the first time, or coming back for the next term - and whether you're a tourist or a resident with business in Edinburgh, our taxi and shuttle service is for you.
We offer scheduled trips for students and regular visitors to St Andrews all year round. We also arrange private transfers if you have special transport needs (e.g., privacy, more space for their luggage or golf equipment). Our friendly local drivers will get you safely to your lodgings or designated drop-off point in St Andrews.     
Here's one more benefit we offer: the price we quote is the price you pay. Warning: you could end up paying less!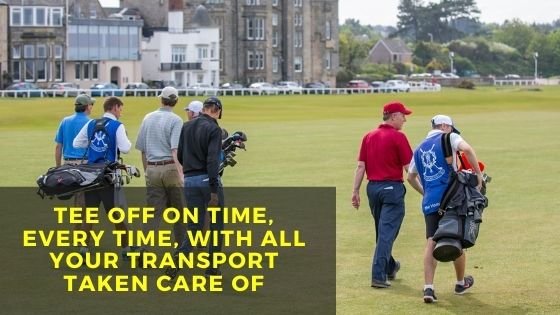 Looking forward to taking in the beauty of St Andrews' golf courses, but less keen on the hassle of getting to and from the beautiful town and surrounding courses? We offer transport for golfers to St Andrews, so let us take care of all the hard work for you. 
Our business may have started as a shuttle service in St Andrews that catered to St Andrews University students, but everyone is welcome to use our services now. Our St Andrews shuttle service takes you from Edinburgh Airport to the tees, if you want, or at the doorstep of your lodgings in St Andrews. 
Friendly local drivers
Comfortable, clean, and well-maintained private vehicles
Scheduled regular trips all year
Provisions for private shuttles for individual or group golfers
Golf transfers from *ALL* UK airports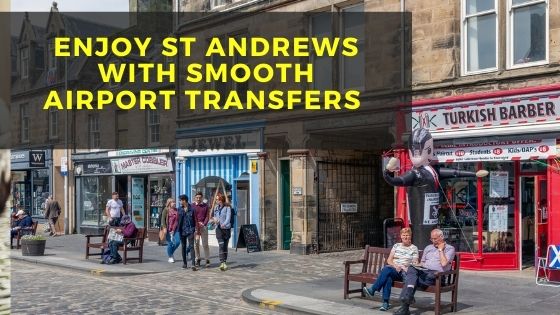 Make the most of every minute you spend in our beautiful university town. Our friendly local drivers don't just help you get around, they can also recommend places you need to visit or things you must do while in St Andrews. 
So, whether you're here for business or pleasure, let St Andrews Shuttle take you from the airport to where you need to be, with convenient airport transfers to St Andrews.
Our simple 4-step booking process
Reserve Your Seat in 4 Easy Steps
In the spirit of taking the stress out of our customers' travels, we've made our seat reservation procedure as simple and convenient as possible. To book a seat in our shuttles between Edinburgh airport and St Andrews, just follow our 4-step online booking process: 
Step 1: Book online or get a quote
For a quote, or to book, simply use our online booking form (or the 'contact us' form if you don't have a flight) 
Step 2: Receive your confirmation
Once you've filled in all your information, you'll receive an instant email confirmation (for the £30.00 shuttle) - or, for private transfer, we'll respond within 24 - 48 hours.
Step 3: We'll inform you of pickup time
Sit back and relax; you'll receive your pickup time either in your confirmation email, or, in the case of private hire, at 7:00 PM the evening before you travel. 
Step 4: Enjoy service with a smile 
Whether you're coming or going, one of our friendly team will be there to collect you at the agreed location, before whisking you off to your destination!
Take the stress out of travelling to and from St Andrews with our easy booking system
Book now to secure your seat with St Andrews Shuttle (at busier times, spaces may be limited)