The Outlander Day Tour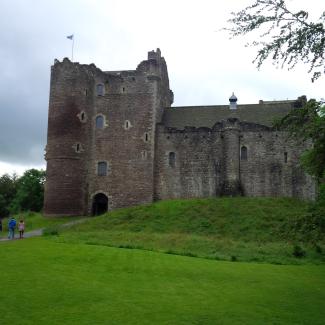 We depart St Andrews and head west and our first stop will be the quaint village of Falkland.
What can we say about this lovely village?
Well it has a 15th century Royal Palace, it has some lovely quaint streets, architecture, and it steps in as Inverness in the TV series "Outlander"
You will have a chance to wander round, to have your photo taken in the exact spot where Jamie's Ghost stood and watched Claire in Outlander Season 1, before we carry on our journey in search of Jamie and Claire
From Falkland we travel west to the village of Culross (pronounced "Cooruss").
This is the location for Cranesmuir, and we can see Geillis and Duncan's House and the town Square, where she was sentenced to be burned for being a witch.
Doune Castle (pictured above), has a long history from the time it was built in the 14th century, through the Jacobite Uprisings to present day.
Now its famous for 3 modern day appearances.
This famous Castle has been in "Monty Python and the Holy Grail", the pilot episode of "Game of Thrones", and of course "Outlander".
Your will have time here to take the audio guided tour of the castle and listen to Jamie tell you about some of its features.
Late lunch? Pop over to Deanston Distillery for lunch at the "Coffee Bothy" or even take the distillery tour. The warehouse here was used as Jamie's cousins wine warehouse in Le Havre.
Blackness Castle is the magnificent fortress that stood in for Fort William in Season 1. This is where Jamie was tortured and later where Claire was imprisoned and Jamie breaks in and saves her (spoiler alert!).
Impressive, given that this stronghold was built to keep people both in, and out.
From here we will make our way back to St Andrews, taking in the sight of the three bridges as we cross the River Forth and head home.
Please note that all tour itineraries are subject to Covid -19 regulations, so may need to be adjusted.
To book or chat to us about any tours, please email us - [email protected]