Our EV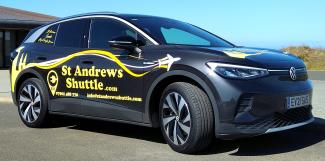 St Andrews Shuttle goes Electric!!!
Climate Change is real and St Andrews Shuttle made a promise during the pandemic that we would look at lowering our carbon footprint.   
Like so many businesses throughout the pandemic we have had time to reflect on how we developed our company and how we can improve our services for the future. Our main objective going forward is to reduce our carbon footprint.
In early 2021 we established our own grove through Trees For Life and we are proud to donate trees to it every month. It was a great start, but we wanted to do more. 
In June 2021 we added to that promise and purchased our first electric vehicle to our fleet.
The Volkswagen ID.4 is fully electric, and has a real range of 250 - 270 miles (based on what we have done with it, not VW), it will seat 2 passengers (Covid rules), and carry 3 large cases, and a couple of hand luggage, or 1 golf travel bag and a couple of smaller cases.
Its a great addition to our fleet, and in the coming months we may see another EV joining the VW ID4. 
For a short video about our VW ID.4, click here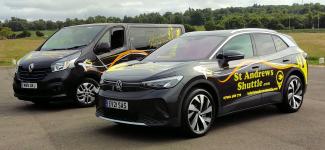 Maybe quiet on the inside, but you wont miss seeing it on the road!!
We are looking forward to using the new vehicle for our Airport Transfers across the UK and for our Private half and full day tours around Scotland.
This is just the start; we want to be known for our environmentally friendly values and vehicles, as well as our outstanding customer service.
To Book this vehicle click here