What's the Best Way to Travel from Edinburgh Airport to St Andrews?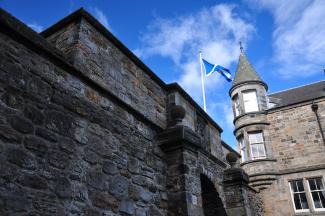 Are you looking for the best way to travel from Edinburgh Airport to St Andrews? 
Whatever the reason you're looking to travel to our beautiful little town, one thing that everyone has in common when considering the trip is: how are they going to reach their end destination? 
Arriving at Edinburgh Airport after a potentially long flight, with all your bags and the stress of having to work out how to get to where you're going doesn't sound like the most fun option for some people. 
Luckily, you do have options, and here at St Andrews Shuttle, we're going to go through them all below, so you can work out the best way for YOU to travel from Edinburgh Airport to St Andrews.
What's the best way to travel from Edinburgh Airport to St Andrews?
That answer really is quite a subjective one.
Perhaps you're looking to travel as cheaply as possible, or to experience the adventure of getting from A to B with the likes of buses, trams - or even doing a bit of driving on the Scottish roads.
Or maybe, just maybe, you'd prefer taking the least stressful option where you know everything will be taken care of when you arrive at Edinburgh Airport. Let's take a closer look at some of your options, shall we?
1. Public transport 
Let's start with an oldie but a goodie! Public transport will definitely get you from A to B, however there are no direct buses to get you from Edinburgh Airport to St Andrews. 
This means getting a combination of either two buses, a tram and a bus, or even a tram, train and bus (the latter not being too bad if you're looking to cross as many modes of transport off your list as possible - which some people like to do!). 
Pros: 
It's an affordable method of transport

Public transport is fairly reliable in Scotland
Cons: 
You'll have to get at least two buses 

It will take around you 2 hours, 40 minutes

If you haven't travelled to Scotland before, it might get confusing
2. A scheduled St Andrews shuttle 
St Andrews shuttle services are usually scheduled to leave the airport at a certain time, and are an easy, affordable way to get to St Andrews from Edinburgh Airport, without any of the fuss. They usually charge a set, affordable fee per person. 
When looking at St Andrews shuttle services, you'll find most companies will publish an online timetable that you'll be able to check - allowing you to book the time that best matches up with your flight. Nifty, eh? 
Pros: 
It's convenient and stress-free

It's usually very affordable 

It takes just 1 hour, 20 minutes

You can get dropped off right where you need to be
Cons: 
Shuttles usually only leave at set times 

You're sharing with other people 
3. Shared airport transfer 
A shared transfer is a little bit different, and allows you to request to share transport with others travelling to St Andrews on the same day - this helps reduce the cost. Most companies will allow you to register your interest, and you'll then be matched up with other suitable parties.
Doing things this way means you may need to wait until you're definitely matched with someone, and if not then you'll most likely need to make other arrangements - like a private taxi.
 
Pros: 
Sharing the cost in this way makes it more affordable

You'll be matched up with someone travelling at the same time as you

It takes just 1 hour, 20 minutes to get there
Cons: 
There's no guarantee you'll get a match for your transfer 

You might have to wait a while before getting confirmation 
4. Private taxi 
Not the cheapest option, but hiring a private taxi to take you to straight from Edinburgh Airport to St Andrews guarantees that you'll get from A to B with zero stress, and no waiting around for other people. 
Your driver will be there to greet you, and you can relax knowing you're going to get there without having to carry your luggage to your door; it's all taken care of. 
Pros: 
It's probably the least stressful option

You'll get door-to-door service

Private transport with plenty of room for your bags
Cons: 
It's the most expensive option (just short of hiring a car!)
5. Hire a private car 
If you love the idea of having the full freedom of the road - and it's legal for you to drive in this country - then hiring a private car for your trip can be a great option. 
After all, you can let your sense of adventure run wild, and fully explore St Andrews and the surrounding areas on your own terms. There's also no need to wait around at the airport. However, this option isn't great if you don't require a car for the entirety of your stay. 
Pros: 
Full freedom to take whichever route you like 

Go sightseeing around St Andrews and the surrounding areas

The convenience of having transport at your fingertips 
Cons:
This is the most expensive way to get to St Andrews 

It'll take you around 40 minutes to fill out all the paperwork

Parking in St Andrews is difficult, especially in summer

If you're not familiar with the roads, you might get lost 

The responsibility of hiring a car for the entirety of your trip
Advice from St Andrews Shuttle
There's really no right or wrong way to get to St Andrews from Edinburgh Airport. But if you are looking to hire a St Andrews Shuttle service or shared transport, we'd recommend taking a read over our recent blog: '5 Tips When Booking an Airport Transfer from Edinburgh to St Andrews'.
It'll give you some more pointers about things to look out for, and check, when booking a shared service. After all, having been in this business for over 14 years now, we know all the things that can potentially go wrong! A bit of extra diligence can really pay off. 
In summary 
Thanks for reading, and we hope you've found this blog useful when looking for the best way to travel from Edinburgh Airport to St Andrews. It's really a subjective thing, so choose the right transport method that suits your needs, bearing in mind some of the pros and cons above. 
Got any questions about booking a St Andrews Shuttle? Just give us a call, or fill out our online contact form - we'll be more than happy to help.
We hope you enjoy your trip to St Andrews!